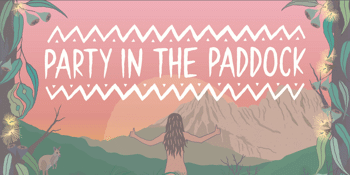 Vibestown & triple j Presents
Party In The Paddock 2019
Lily Allen, The Presets, The Jungle Giants, Vera Blue + Stacks more!
White Hills (Whitehills, TAS)
Thu 7 - Sat 9 February 2019 12:00 PM
**IMPORTANT INFORMATION**
Please read below before purchasing tickets

PITP's ticketing system has changed for 2019. We have now released non camping options and day tickets. Please read below.
How to buy a Weekend ticket and addon's
1 - Purchase a 'Weekend Festival Ticket' - This will get you into the festival Friday & Saturday, This does NOT include camping or car pass.
2 - Choose your addon's/options, there are:
Thursday Pre Party
This is a addon ticket to make the festival 3 days, join us for the full party and get the full experience. Plus best camping spot and smaller lines!
Camping ticket
This is new this year and is an addon ticket to your main weekend festival ticket, if you want to camp you must ensure you have this ticket, camping spots have been reduced for 2019, first in best dressed
Car Pass (Camping)
If you wish to bring your car to the campsite you will need one of these bad boys!
How to buy a Single day ticket
1 -Select Friday or Saturday - Single Day Ticket
2 - Choose your way of transport
A - Day Parking Pass - You must purchase one if you want to park your car there for the day
B- Catch the bus - These are return tickets
C - There is a drop off point inside the festival entry (please pre arrange pickup time as mobile receiption is limited on site)
Bus Service
Each day there will be a continuous bus service running to and from Launceston. The breakdown of times are below. We will contact you closer to the event to confirm what time you'd like to come and leave the festival. Bus leave times may change and there are no set times of arrival and departures, first in line, first on the bus.
Thursday 7th - 12:00pm - 11:30pm
Friday 9th - 10:00am - 1:30am
Saturday 10th - 10:00am - 2:00am
Sunday 11th (from Festival to Launceston only) - 9:00am - 12:00pm
TICKETING FAQ'S

UNDERAGE PATRONS
Underage patrons must be accompanied by a sibling over 18 or a responsible adult over 21. One person is only able to be guardian for two under 18's, with exception of parents bringing their own children. The underage consent form will be available closer to the the festival date. Kids under 12 are free when attending with a ticket-holding adult, maximum 2 children per adult.
CAN I GET A REFUND?
Unfortunately we don't do refunds as stated in our terms and conditions that you can find on our ticketing page here. However, there will be a name change facility provided that will be available closer to the event - please watch our website & socials for more info on this. Please note that if you are selling your ticket on to someone else you must sell it for the price you paid for it and trying to profit from this transaction is against our terms and conditions and may result in your ticket being cancelled (scalping is yucky and ruins the spirit of why we're here, for good times and great music).
TICKET QUESTIONS & ISSUES
If you have any issues or questions about your ticket please contact the lovely folks at Oztix.
WHAT DO I NEED TO BRING TO GET IN?
You must bring along all tickets you have purchased. PITP requires ID upon entry. You will need either a current drivers licence, passport or government issued proof of age card.
The name on your ticket must match the name on your ID for entry.
2 STEP NAME & DOB
This year to reduce scalpers we have introduced delayed ticket fulfilment and a 2 step name & dob system. This means you do not need your names & dob for each ticket at time of purchase. You will receive an email confirming your purchase, be sure to read it and follow its instructions. Don't freak that you don't get your tickets straight away!
TICKET RESALE
This year there will be no ticket re-sale facility, you may sell your own tickets as you wish. You must however ensure the correct name is on the ticket. Oztix will have a name change facility available from the 1st of December at a cost of $10.
WHERE CAN I GET A TICKET?
All tickets are online via pitp.com.au or through oztix.com.au and follow the links
DO I HAVE TO HAVE MY NAME ON MY TICKET?
This year you don't have to give your name right away, so if you purchase a ticket for you and a few mates no need to have their names ready right away, you will receive an email via oztix prior to the event to validate your ticket with your name and information.
CAN YOU CHANGE THE NAME ON A TICKET?
Yes closer to the event a name change facility will be available via oztix. Please note a small administration cost will apply of $10.
ARE CAMPING AND CAR PASSES INCLUDED IN MY FESTIVAL TICKET?
No. If you intend to camp or bring a car to the festival you must insure you purchase a ticket along with your festival ticket before the event.

THURSDAY PRE PARTY
Don't miss out on the full 3 day festival experience with the Thursday add-on ticket. This years lineup for the thursday is loaded for an epic opening night of PITP. This ticket is only valid with a general admission ticket and they are limited so don't wait to long